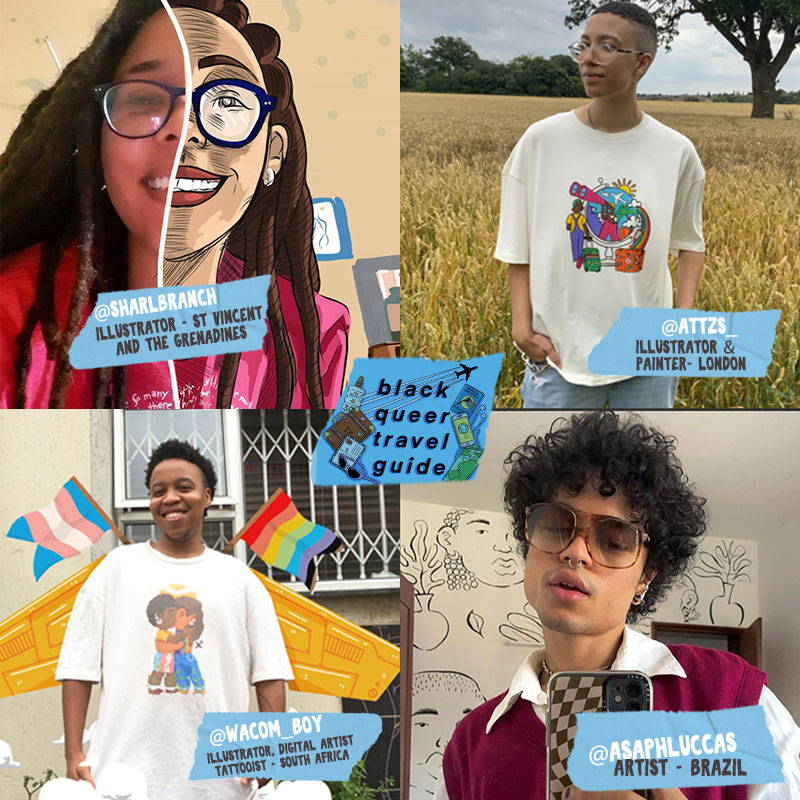 "We decided on a capsule collection involving four Black queer artists from around the globe with their own unique and creative interpretations of Blackness, queerness, travel and joy… "
- Paula Akpan - BQTG founder, She/Her
Founded in 2020 by writer, journalist and historian, Paula Akpan, The Black Queer Travel Guide is a digital resource to support and help the black queer community travel safely around the world.


In 2020, Paula spent four months speaking to over 20 Black queer activists and community organisers from around the world, from Jamaica to Papua New Guinea to Nigeria, researching the daily precautions Black queer people take in their countries, the grassroots work they're doing in their communities and how they travel and navigate life.

Paula's research shaped the vision of what her team of six hopes to accomplish through The Black Queer Travel Guide and the building of resources. The Black Queer Travel Guide is currently available in its first stages as a web app; the team's mission is to create a downloadable phone app, showing Black queer travellers nearby locations and businesses that are Black queer-friendly or Black queer owned (such as bars, restaurants, hotels, cultural hubs and more) as well as connecting them with local Black queer communities.
"...THE COLLECTION EXISTS TO CELEBRATE BLACK ART"
- CHASE - BQTG STEERING PANEL, THEY/THEM
We share the belief that everyone has a right to travel the world freely and safely. With this in mind, when BQTG approached us, we leapt at the opportunity – helping to develop the first stage of the first ever BQTG app. This creative fundraising will help populate and moderate the web app, hire an app development team and develop an app with a global team.

To help further support local black queer organisations around the globe, Lucy & Yak are supporting the Black Queer Travel Guide team through production of a small collection with art for each of the designs created by members of global Black Queer communities, hailing from Brazil, St Vincent, South Africa and the UK.
Set to launch in the first week of November, the collection features 3 Benny Tees and a pair of dungarees. Each item encompasses a feeling of travel and celebrates Black queer joy and travel. Each artist involved in the design has interpreted the brief in the way they experience life, and because of this, the product designs are unlike anything you've seen from Lucy & Yak before.


Our four artists: Ashton Attzs, Sharleen Branch, Wacom Boy and Asaph Luccas, were given full creative reign over their designs. The collection takes inspiration from their own lived experiences, featuring unique illustrations that represent self-expression, identity and liberation for the Black Queer community.


100% of the profits from The Black Queer Travel Guide and Lucy & Yak collection will go towards supporting the development of the native app - plus 3 x additional donations will go to Black Queer Charities around the globe that have been chosen carefully and thoughtfully with input from BQTG's steering group and the artists involved in the campaign.
BQTG and Lucy & Yak will use their platforms to amplify the artist's voices, and champion the Black queer community globally.

Let's see how far around the globe the message can travel!
Meet Paula Akpan
Founder of The Black Queer Travel Guide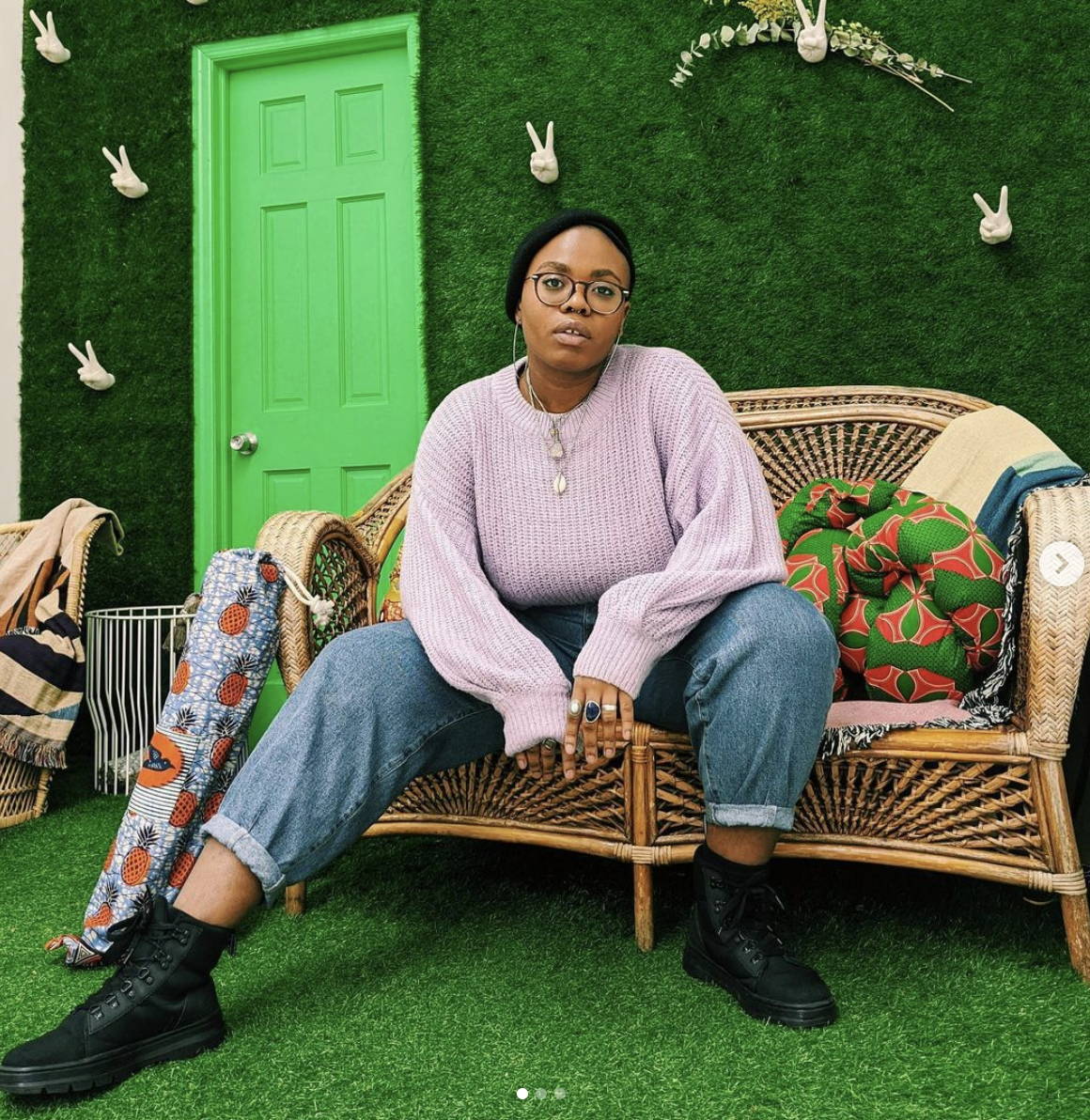 Paula Akpan is a journalist, historian and public speaker. A sociology graduate from the University of Nottingham, her work mainly focuses on Blackness, queerness, and social politics, and she regularly writes for a variety of publications including Vogue, Teen Vogue, The Independent, Stylist, VICE, i-D, Bustle, Time Out London and more.
She's also a published essayist, having written an essay on Black women and community in Slay In Your Lane's anthology Loud Black Girls (published by 4th Estate Books at HarperCollins, 1 Oct 2020) and another on Black British Lesbians and their relationship with the UK Black Women's movement for The Queer Bible anthology (published by HQ at HarperCollins, 10 Jun 2021).
Paula is currently a fully-funded Masters student at Goldsmiths, studying Black British History with an interest in mapping out the lives and activism of Black British lesbians and queer women during the 70s and 80s.
Alongside her writing and academic endeavours, she is also the director of a charitable incorporated company called The Black Queer Travel Guide, a digital resource Prioritising Black Queer travellers and their safety as they navigate the world, through offering experiences, advice and information on destinations around the globe.

"The BQTG team have worked to create an artist-driven capsule collection that represents and supports people around the world, all for the global Black Queer Community"
- Team L&Y