All our clothes are designed by us, Chris & Lucy, and our design team here in the UK. The final product is brought to life with the help of our fantastically talented tailor, Ismail, and his growing team in North India, and our other partners in India and Turkey.


All our tailors are highly skilled and have been tailoring all of their adult life. They see each piece through from start to finish and take pride in every piece they make.Your Yaks are one of a kind!


We use 100% Organic Cotton in most of our garments. Cotton is biodegradable as it is a natural plant, therefore it is better for the environment than polyester and other synthetic fibres - which have often been optimised for the easiest care, but at the expense of other things.
Cotton can need a little more care, and attention from the wearer to help it last longer - but we should all get into the practice of looking after our clothes the best we can, to optimise their lifespan to make sure we're rocking our Yaks many years into the future, and to respect the person who made it!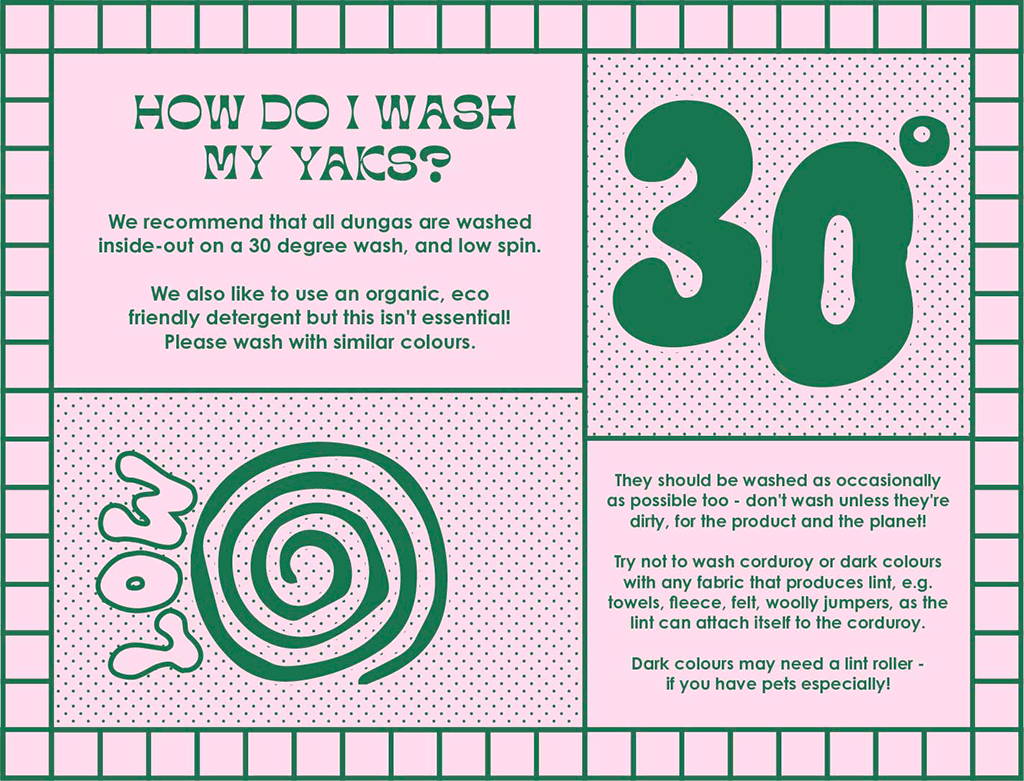 How do I wash my Lucy & Yaks?
We recommend that all dungas are washed inside-out on a 30 degree wash, and low spin.
We also like to use an organic, eco friendly detergent but this isn't essential! Please wash with similar colours.
They should be washed as occasionally as possible too - don't wash unless they're dirty, for the product and the planet!
Try not to wash corduroy or dark colours with any fabric that produces lint, e.g. towels, fleece, felt, woolly jumpers, as the lint can attach itself to the corduroy.
Dark colours may need a lint roller - if you have pets especially!

How do I dry my Lucy & Yaks?
Yaks aren't suitable for tumble drying, they will shrink - so please dry naturally.
The sun is their friend! If drying outdoors in the sun, keep them inside out to keep the colour nice and vivid, as strong direct sun can fade the low-impact dyes if left out for too long!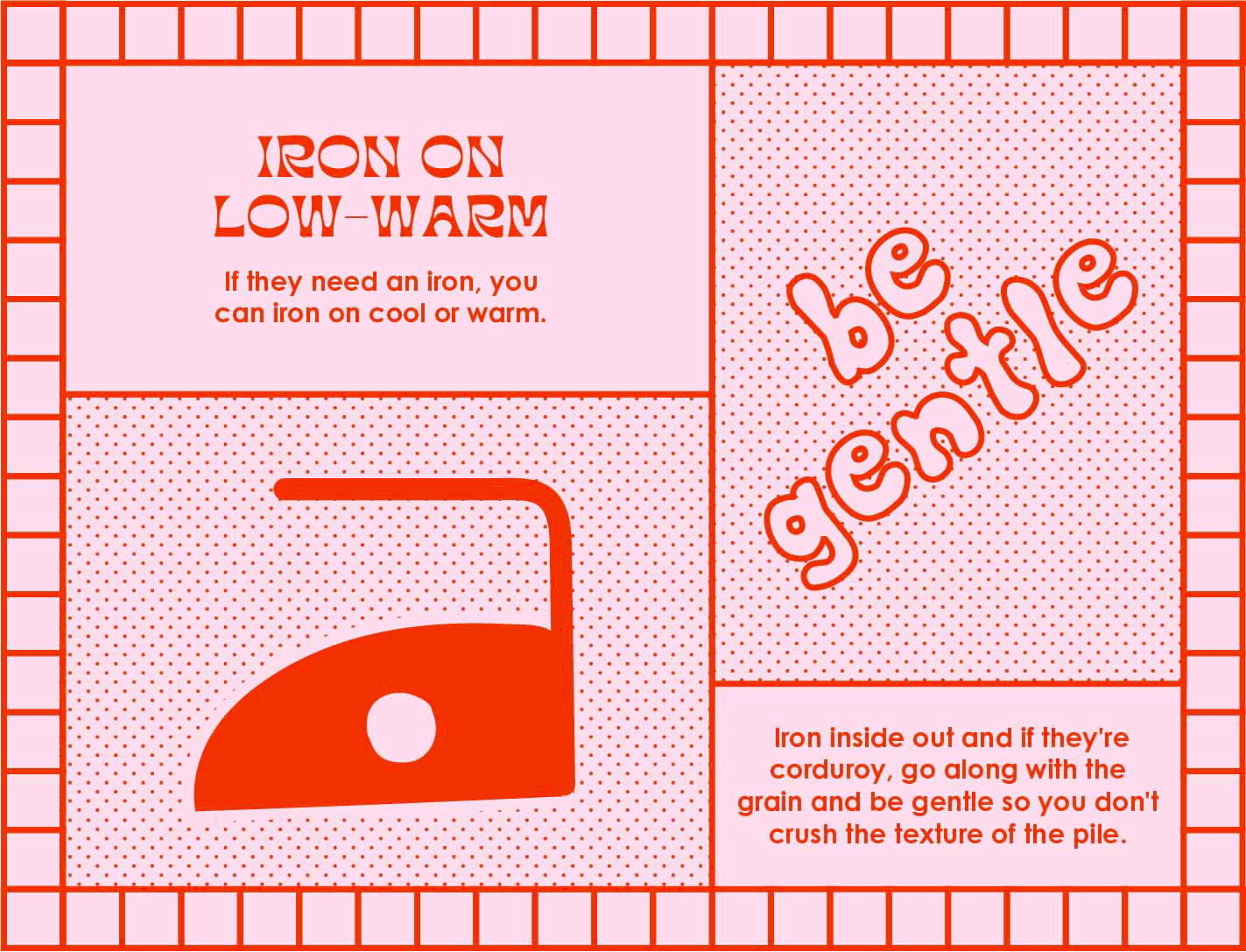 Iron on Low-Warm
If they need an iron, you can iron on cool or warm. Iron inside out and if they're corduroy, go along with the grain and be gentle so you don't crush the texture of the pile.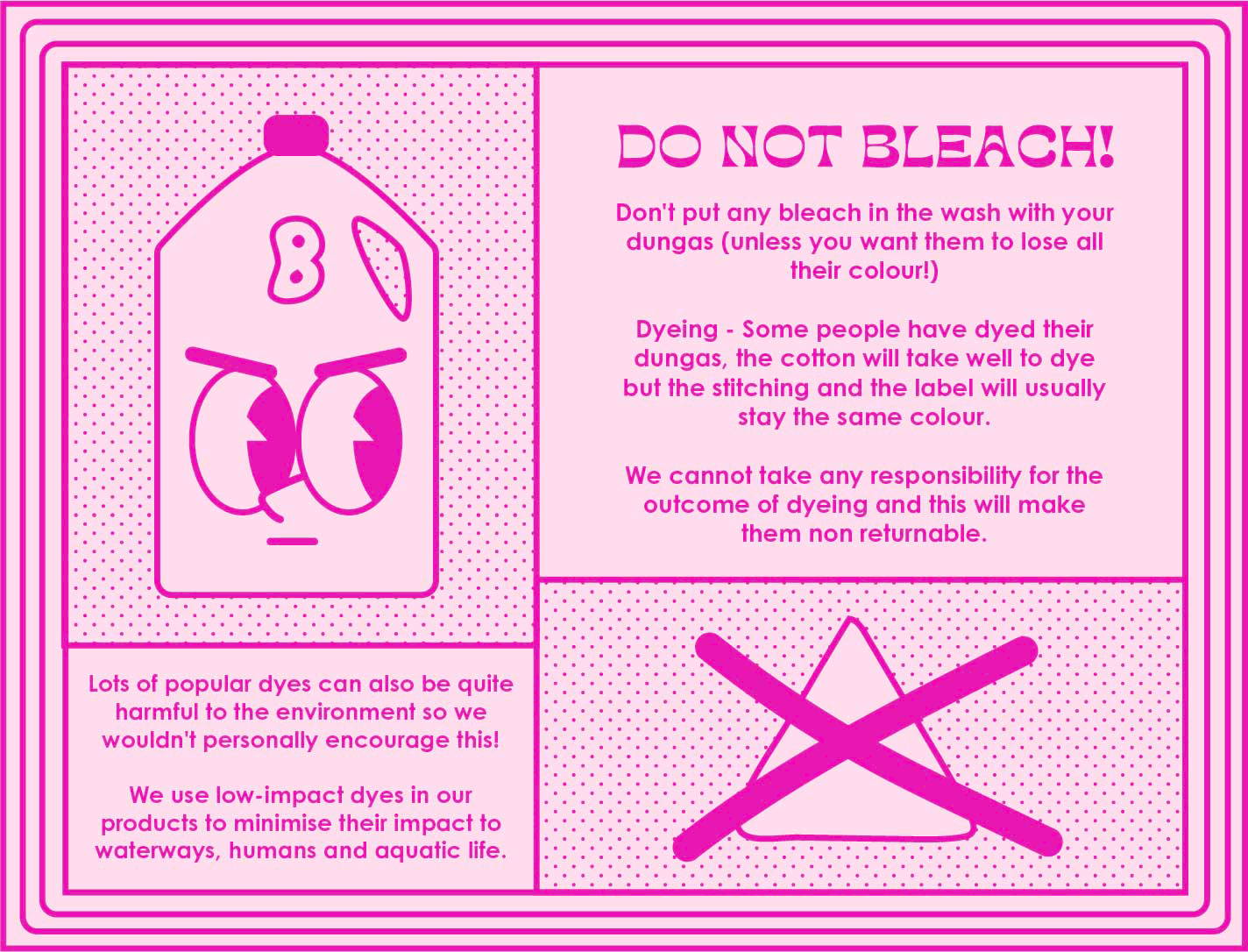 Do not bleach!
Don't put any bleach in the wash with your dungas (unless you want them to lose all their colour!)
Dyeing - Some people have dyed their dungas, the cotton will take well to dye but the stitching and the label will usually stay the same colour.
We cannot take any responsibility for the outcome of dyeing and this will make them non returnable.
Lots of popular dyes can also be quite harmful to the environment so we wouldn't personally encourage this!
We use low-impact dyes in our products to minimise their impact to waterways, humans and aquatic life.
How can I wash my recycled polyester garments?

These can be washed at 40 degrees on a standard wash.
We recommend that you use a guppy bag to help catch any microfibres that are shed.
Longevity

We always design Lucy & Yaks with comfort and style in mind. Which means all of our designs are practical. However they are designed and made as a fashion item, we don't make clothing as workwear or to endure tough terrain and hard graft - they are made to make you look awesome and keep you comfy! Please bear this in mind when ordering.
Denim and thick twill styles can be a more hardwearing option if this is needed.
Our products and fabrics are designed to soften with wear and should all age beautifully, becoming even more unique to you!
Decreasing pilling (bobbling)

Cotton is a soft, yet durable fibre so feels lovely on your skin. It will soften with wear, but can be prone to pilling so it is really important that the size you buy is correct - this will prevent unnecessary abrasion, such as between the legs.
Our dungarees are all designed to be loose fitting - the lightweight ones and the corduroy ones will eventually start to bobble if they are rubbed together too often, as this is just the nature of woven cottons and cord.
To help your clothing to last longer, make sure you are choosing the correct size or size up - they're designed to be loose fitting so we choose our fabric based on the design.
If you are unsure what size to go for, ask us - we love to chat! All we want is for you to get the most out of your Lucy & Yaks - we want them to last!
How to minimise lint

Cotton and corduroy (and other natural fibres like wool) can attract lint and small fibres.
We recommend always washing with like colours, especially with dark shades to minimise lighter fibres sticking around - and never tumble dry!
Some people find fabric softener or anti static spray helps, or that less lint is attracted when they've been washed a few times.
Finally, it's always a good idea to just keep a lint roller handy, especially if you have a pet.
Spot cleaning

We understand that accidents can happen! If you need to spot clean your garment, please do so with warm water only and don't use any abrasive cleaning products as scrubbing at the fabric may alter the texture.
Please avoid using stain removal products as many of these contain bleach and can be damaging to the low impact dyes used.
Some eco friendly stain removal products may be ok but please check the ingredients list first. Accidental damage isn't covered under our warranty.
We work really hard to create pieces that you can't find anywhere else. Pieces that you love wearing and you look fabulous in.
We want the quality to be incredible. We want the guys making it to enjoy making it. If there's any way you think we can improve on this, please get in touch, we can only get better.

Thank you for supporting us and Ismail's village.
Love,
Lucy & Chris