Our mission is to pioneer lasting positive change in the industry and the world around us - to do so, we must think collaboratively, and make an impact collectively.
Lucy & Yak was founded in 2017 in an internet café in Rishikesh, by two dreamers with a big, bold idea. Since then, we have been determined to prove that business can and should be done differently - where everyone we work with, from farm to factory, warehouse to web, is valued, respected, and paid their fair share. We believe that the system is whatever we all decide to make it, so let's make a system where everyone wins.
When we were a tiny start-up, we never could've dreamed the impact that Lucy & Yak would have on the industry; and yet, here we are, growing and learning at a phenomenal speed. We're humbled by our journey, but we're super proud of it too. We've experimented, taken risks, celebrated successes and made mistakes, all in the name of trying to put our planet and its people before profit.
Lucy & Yak is heavily rooted in community. We believe in collaboration over competition, and we believe that this is a huge part of what makes Lucy & Yak different. Over the years, we've been lucky enough to work with some incredible artists, creatives, movers, and shakers, and as we look forward to the future, we believe it's important that we consider the kind of future we want.
At Lucy & Yak, we want a future where it's commonplace for other brands to think about their impact on the planet; where environmental and human rights are the starting point, not an afterthought. As we strive towards this bright future, we will keep collaborating with individuals, brands, and organisations that want to support us in making it a reality.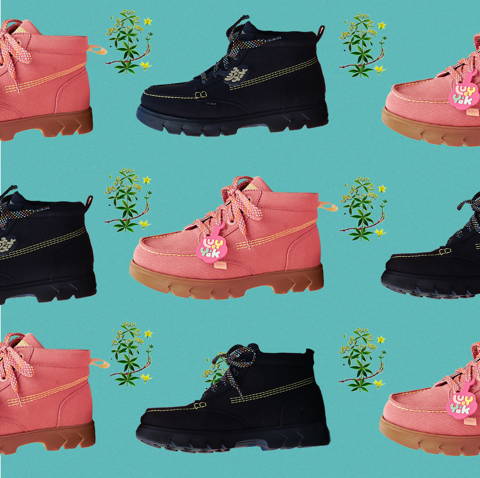 When we were approached by Kickers, we were presented with two incredible opportunities: one was to collaborate on a beautiful product, the other was to share our passion for transparency and responsible fashion manufacturing. We had a chance to make a difference and expand our circle of influence, and as seasoned opportunity-seizers, how could we say no?


The result? Two bold, beautiful shoes - vegan-friendly, crafted in considered materials, and dyed using low-impact methods.
A business model that is shifting to further consider their environmental impact. Two brands, former strangers, who have become friends.
Together, we're proud to showcase the difference it can make when you #StartSomewhere
- even when you start somewhere as small as two pairs of consciously made shoes. We hope you'll join us in making these first steps together, because if we all walk this road as a united front, everyone can win.
___________
Kickers' parent company Pentland are committed to ethical trade.
Their Code of Employment Standards for Suppliers reflects the Ethical Trading Initiative (ETI) base code and International Labour Organisation (ILO) conventions.
Read more about Kickers' commitments here:
https://www.kickers.co.uk/corporate-responsibility-i44
View Pentlands Business Standards Policy here:
https://www.kickers.co.uk/downloads/Pentland-Brands-Business-Standards-policy-English.pdf
View their Modern Slavery Report here:
https://pentlandbrands.com/wp-content/uploads/2020/11/Pentland-Brands-Modern-Slavery-report-2019.pdf