OUR EXTENDED SIZING TIMELINE
Our passion project for the past several months has been extending our size range to include UK sizes 24, up to 32. The team have been working around the clock to review the fit of every single product, and our new sizing is now available across some of our key styles from SS21.
We originally committed to a size range of UK6-UK28. We're actually going to go beyond that and go up to size UK32 (4XL) in some styles SS21, more styles by AW21 — and remaining styles arriving in SS22.

We've now crafted 'The New Sizing Edit' so you can quickly and easily find the silhouettes you love in your ideal size.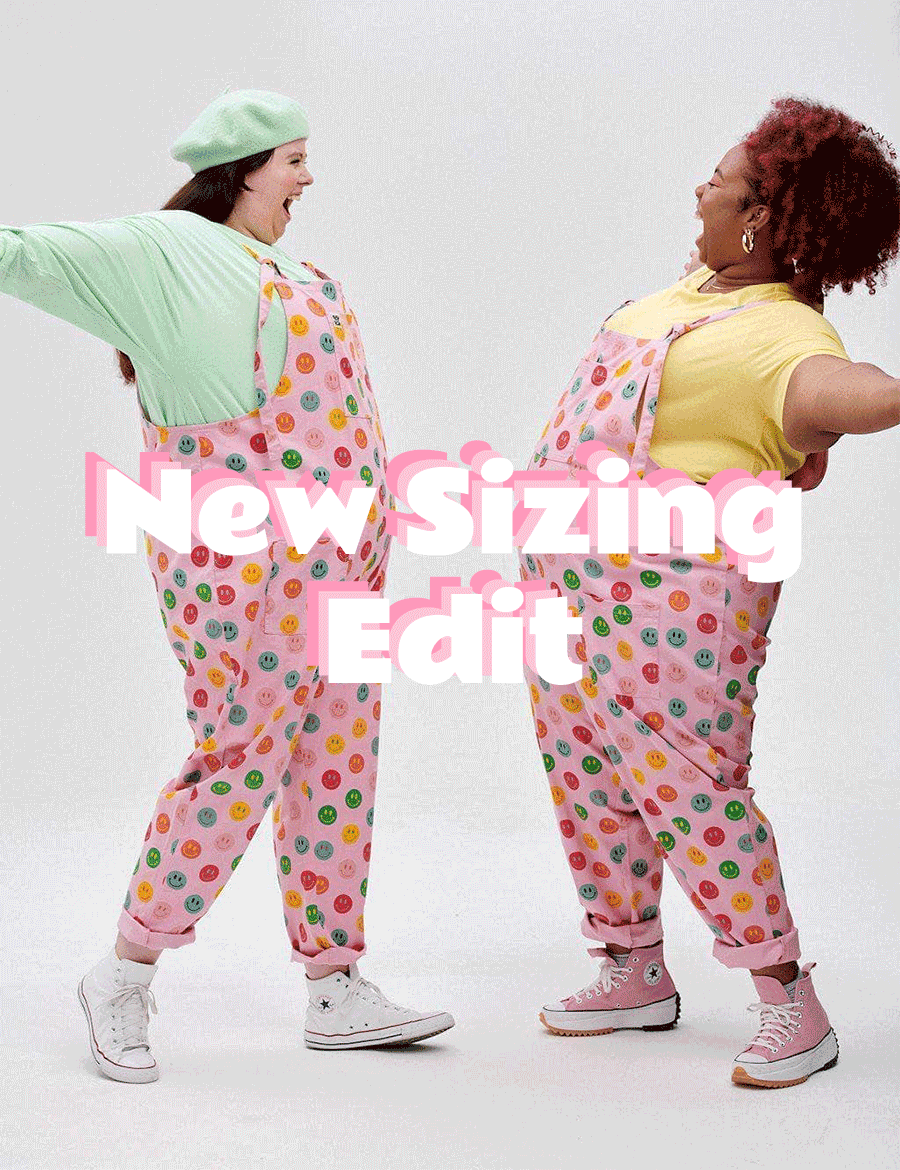 Can't spot your favourite style just yet? Scroll down to our new sizing timeline.
Check out our video announcement here
Here is the launch timeline you've all been waiting for. Please be aware that this is subject to change due to unforeseen delays. In the event of this, we will update this page accordingly, and provide updates via social media where necessary.

The 'Original' Smile Print (UK6 - UK30)

The 'Original'

Sea Blue (UK6 - UK30)
The 'Original' (Umi) Various in (UK6 - UK32)
Easton Dungaree Various in (UK6 - UK32)
Atlas Various in (UK6 - UK32)
Timmy Various in (UK6 - UK32)
Luna Various in (UK6 - UK28)
Juni Available in (XS - 4XL)
Adele Available in (XS - 4XL)
Benny Available in (XS - 3XL)

Maya Available in (XS - 3XL)
Greta (end of season lines only) Available in (XS - 3XL)
WE'RE WORKING ON OUR FITS
Our amazing team of Garment Technicians have been working flat out alongside our Production team in the UK and Supply Chain Manager in India, to ensure that we get this right. Reviewing and reworking sizes is a complicated process and takes numerous attempts and fit sessions to get that perfect fit across all sizes.
Our Original Dungaree was hand-graded by Ismail when Lucy & Yak was born, three and a half years ago, before we were aware of the complex art-form of technical grading. Our team therefore had to start from scratch with this particular piece; they had to make adjustments to every size of Original that we currently offer whilst also adding new sizes up to size UK32/4XL.
We are loving our new and improved fit so much more, but we want to make sure you do too. For that reason, in our Original, we released two limited designs in our new sizing to gauge your feedback — before full roll-out across all patterns and colour ways later in the year.
We successfully added additional sizes to all other styles with only minor tweaks to the current sizing, therefore we're confident these are perfect.
All dungarees Coming in (UK6 - UK32)
- Including prints
Dresses

Coming in (XS - 3XL)
Sweaters

Coming in (XS - 4XL)
Tees

Coming in (XS - 3XL)
Carmen Coming in (XS - 4XL)

Ragan

Coming in (XS - 4XL)

Eddie

is still a work in progress.

Fleeces

Coming in (XS - 4XL)

Marley fleece

is still a work in progress.

Addison Coming in (UK6 - UK32)

Cole

Coming in (UK6 - UK32)

Alexa

Coming in (XS - 4XL)

Dana Mom jeans

is still a work in progress


Delores jeans

is still a work in progress
Adele

Available in (XS - 4XL)

Bonnie Shorts

is still a work in progress
We will update you on all garments 'in progress' as soon as we have an estimated date.
We are also looking to add size UK4 (XXS) to more products throughout 2021, and are reviewing our Tall and Petite offerings too.
We will update you when we have more details on this.

We want to thank you all for your patience and support while we work hard to be a better and more inclusive community.

Below is our size chart for all new fits (numerical measurements are shown in inches):
Why isn't everything available in the new sizing already?

At the end of 2020, we employed a Garment Technologist who specialises in plus-sized garment construction. While it can take approximately 8-12 months to responsibly manufacture an item of clothing from start to finish, our amazing team were able to get our first drop of extended sizing out in 6 months. It's important for us to get this right for you, so we've been collating your feedback and making further adjustments before we finalise our new patterns.
Are your product drops more frequent ATM?
During Covid, whilst many retailers cancelled orders, leaving factories factories without payment, with a lot of dead stock and their garment workers without the pay they were initially promised, w
e have honoured all of our orders with our suppliers.
This means that the stock we'd originally bought for 2021 was produced and shipped much later than planned.
We've had to condense this into a much shorter selling period, which has resulted in more drops than we'd bought and accounted for.
Read our India Covid updates here.
Why have you been releasing new products in your old sizing?

Due to ongoing delays caused by the COVID-19 pandemic, we are still receiving stock that was ordered and produced prior to our Garment Technologist joining the business. In the case of some products, it has been possible to place small, additional orders in new sizing — but not on every style.
For information on upcoming releases, and further updates on our new sizing, please keep an eye on socials! As ever, our wonderful Customer Happiness team are available to answer your queries at hello@lucyandyak.com.
For any feedback please email: positivechange@lucyandyak.com